Hemp is one of the healthiest plants on the planet. It is naturally resistant to pests, which means that it doesn't always require harmful pesticides even when grown on a commercial scale. You will be please to know that as a food, hemp seeds have an abundance of health benefits. I have gathered 39 of the best hemp recipes below, but first let's take a quick look at why this plant-food is so good for us.
Health benefits of hemp seeds
(in a nutshell)
Protein Power Super Star – Hemp is one of the most complete proteins in the plant food kingdom, containing ALL 21 known amino acids (the building blocks of protein). Protein is responsible for making neurotransmitters – the essential internal messaging service that sends the signals around your body to make it function. Hemp is well recognised as a super-food by those seeking a healthy protein source.
Perfect balance of omega essential fats
Hemp contains natures perfect ratio (3:1) of omega 3 to omega 6 essentially fatty acids – a unique accomplishment in the plant world. These compounds have been shown to have a particularly beneficial effect on our health.
GLA (gamma linolenic acid)
Hemp is an excellent source of GLA, which has been shown to help people with skin disorders, PMS, menopause, cancer, heart disease, arthritis and has good anti-inflammatory benefits.
High fibre food (yes we really do spell fibre like that here in the UK!)
Like most plant foods, hemp seeds are rich in soluble and un-soluble fibre. Fibre naturally keeps the colon clear and gives you a satiated feeling, whilst helping to reduces sugar cravings.
High in antioxidants
Hemp seed is high in the antioxidant vitamin E. It has also been found to contain tocopherol, which benefits both Alzheimer's and atherosclerosis. Phytol is another powerful antioxidant from hemp seed, which has is known to have both antioxidant and anticancer properties.
Check out my full article for the incredible health benefits of hemp here:
Why are hemp seeds essential for health?
Some of the BEST EVER hemp recipes…
I LOVE hemp, so much that I've gathered together a wonderful list of 39 of the most delicious recipes that use either hemp seed, hemp protein powder or hemp oil below. You'll find drinks, meals, salads, spreads, breakfasts listed. All are gluten-free and totally plant-based, for an extra infusion of high vibrational health.
Enjoy!
Hemp Recipes: Delicious Hemp Smoothies and Drinks
1. Ginger & Hemp 'Heal Yourself' Power Smoothie by Anastasia, Kind Earth
2. Healing Hemp & Mango Superfood Smoothie Bowl by Trinity's Kitchen
3. Hemp Power Protein Smoothie with blueberries by Kind Earth
4. Homemade Vanilla Hemp Milk in 2 Minutes by Anastasia
5. Green Superfood Smoothie with hemp protein, chia & maca by Anastasia, Kind Earth
6. Blueberry Hempster Smoothie with homemade cashew milk by Anastasia
7. Spiced Chocolate-Chaga Elixir with hemp by Emma from Coconuts & Berries
Amazing Hemp Inspired Meals
8. Hemp & Beet Veggie Burgers by Trinity's Conscious Kitchen
9. Sunflower Hemp Falafel by Meal Garden
10. BBQ Jackfruit Pizza with Hemp Seed Vegan 'Cheddar' by Ashley from Blissful Basil
11. Cauliflower Hemp Burger by Sophia from Veggies Don't Bite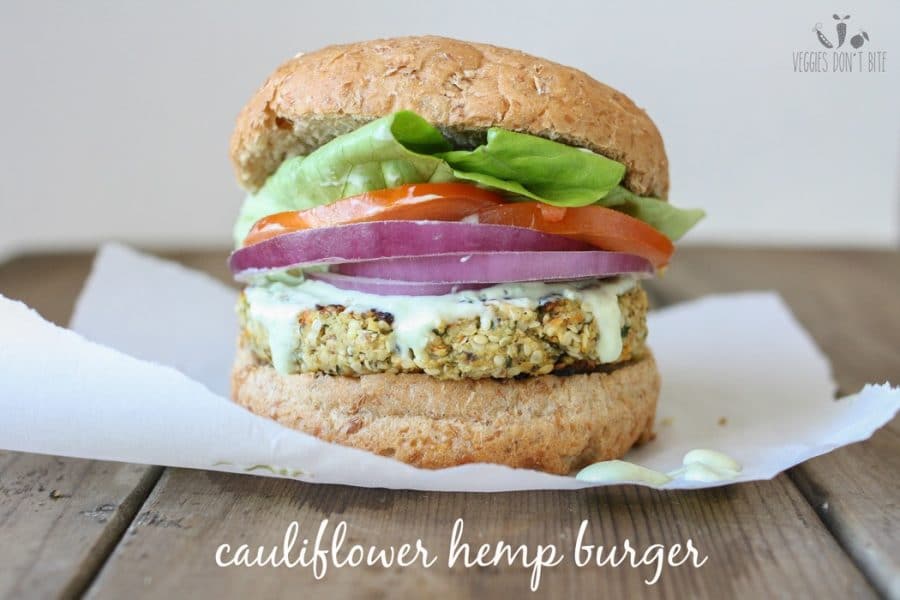 12. Lemon Hemp Seed Pesto by Sophia from Veggies Don't Bite
13. Hemp Alfredo Sauce by Ashley from Blissful Basil
Hemp Inspired Salads & Sides
14. How to make a delicious 'Hemp & Parsley' salad dressing by Trinity
15. Hemp & Lemon Hummus with Hemp Seeds by Anastasia, Kind Earth
16. Cabbage, Apple & Pomegranate Hemp Salad with Ginger-Almond Dressing by Emma from Coconuts & Berries
17. Superfood Salad to Boost Your Immune System Fast by Trinity
18. Garlic, Dill & Hemp 'Cheese' (vegan) by Alissa at Connoisseurs Veg
19. Wild Garlic & Beet Salad with Hemp Dressing by Anastasia
20. Hemp & Parsley Salad Dressing by Anastasia
21. Tahini & Kale Protein Bowl with hemp seeds by Zuzana from Active Vegetarian
Healthy Hemp Breakfasts
22. Hemp Porridge by Jo from Including Cake!
23. No-bake Cherry Chocolate Granola with hemp by Veganocity
24. Happy Hemp Superfood Breakfast Bowl by Trinity
25. Cherry Berry Quinoa Breakfast Bowl by Linda at Veganocity

Hemp Recipes: Delicious Sweet Treats
26. Carob Cosmos Bars with Hemp Seeds by Trinity's Conscious Kitchen
27. Hemp & Pumpkin Seed Flapjack Bars (Oat Bars) by Anastasia
28. Raw Chocolate Hempseed Superfood Brownies by Anastasia, Kind Earth
29. Decadent Spicy Raw Carob Hemp Bites by Audrey from Unconventional Baker
30. Raw Protein Power Balls with hemp protein, cacao, chai and flax by Trinity from Trinity's Kitchen
31. Crunchy Quinoa Cookies – Hemp Infused by Jo from Including Cake!
32. Carrot Cake Energy Bites with hemp by Veganocity
33. Chocolate Hemp Seed Butter from Strength & Sunshine
34. "Peanut Butter Amazeballs" with hemp seeds by A Virtual Vegan
35. Raw Hemp Energy Balls by Trinity's Conscious Kitchen
36. Lime Cashew (or Hemp) Cookies by Zuzana from Active Vegetarian
37. Blueberry Pecan Cookies with hemp hearts by Jennifer from Veggie Inspired Journey
38. Healthy Power Vegan Gluten-free Muffins made with hemp hearts by Alisa from Go Dairy Free
39. And let's go out celebrating with these delectable Superfood Energy Balls by Harriet Emily
Thanks for tuning in. If you like these recipes, please share the love by posting on your social media pages.
Do check out my article on the health benefits of hemp here:
Why are health seeds beneficial for health?
Happy Healthful Eating
Anastasia ♥
Pin for later…