This is perhaps one of the most popular soup recipes that I make.
When I say popular, I mean, judging by the response I get when I serve this to group. Oh my goodness, on the most recent retreat I catered for in Sweden, I was absolutely showered with 'OMG, this is the best ever' sort of compliments! This has been happening ever since I started serving this soup many years ago.
Perhaps it's something about the blend of simple ingredients that really want to dance together. The funny thing is that when I first invented this recipe (must have been 12 years ago now), it all seemed to happen on the spur of the moment with very little thought at all. It's amazing what you can create when you get the mind out of the way.

The very first time this soup came into being I was on retreat in the remote foothills on Snowdonia. I was cooking up food for a particularly ravenous group at the time – honestly didn't matter how much food I produced, it would all get polished off.
Admittedly we had some big eaters at that event. They were doing lots of intensive work on retreat, which seems to stimulate appetite!
Anyway, this one day, I literally had 15 minutes to go before they all came in for lunch. I'd already made extra food, anticipating a hungry bunch, but suddenly thought, that I needed to add more. ***One of my worst fears – not serving enough food ha ha ha*** So I had to think really quickly!!!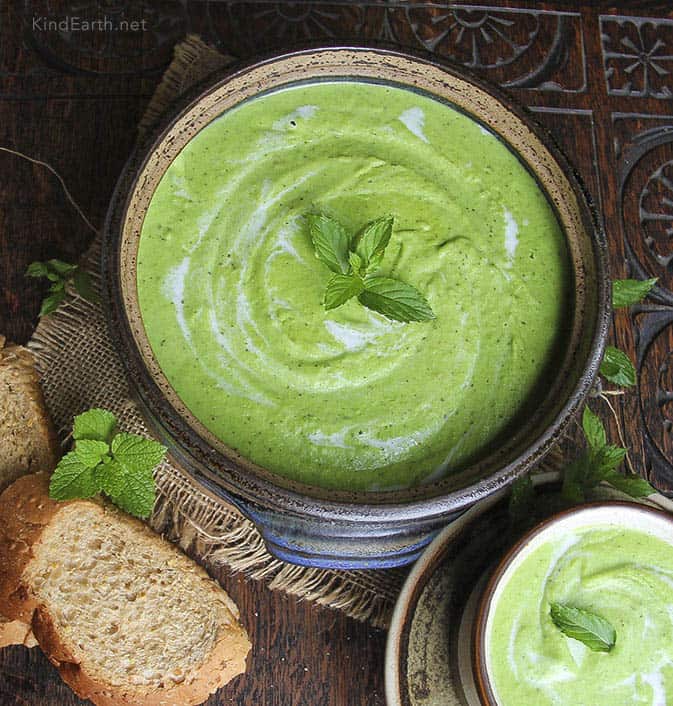 Now, my wonderfully resourceful Mother taught me to use 'whatever you have available'. A trick that has never let me down yet. I also wanted to make a BIG pot of soup with 15 minutes to spare. Let the mission begin!
OK, so there was a massive bag of peas in the freezer. Hmmmm… they just need bringing to the boil and they are done. Yes!
OK, what else? So I need to make it creamy. I grabbed a large potato – chopped it into small cubes (the smaller you chop your potato the faster they cook). Yes!
OK, what else? Coconut to invite another depth of creaminess and magical, subtle flavour.
And finally… Mint! Of course. Instant zingy delectability. And a bit of salt to bring it all together…
Oh my goodness. I'd cooked a big pot of soup in 15 minutes flat. Blended it quickly with my hand blender (which was all I had – a fabulous way to save on washing up). It tasted DIVINE!
Needless to say, they enjoyed every morsel. Those were the days when I didn't write recipes down. I just made everything up as I went along. That one stuck in my mind though and rapidly became a favourite on retreats for guests.
Having 5 simple ingredients and the incredible speed at which you can have it done, makes it an awesome addition to any menu, whether serving groups, serving a family or eating all by your wonderful self!
The art of making something this tasty in 15 minutes flat
The very first thing you need to do is get the potatoes on with the salt.
Note about your cooker: Actually, this takes 15 minutes if you have a gas cooker. Just wapp on the heat and it's boiling in only one or two minutes. I've since used electric cookers – and they seem to take forever and a day to get hot – so if you use electric then my claim to this incredible speed doesn't quite stand 😉
You add the peas and bring it right back to the boil ONCE the potatoes have cooked. Then the mint and coconut go in. Blend it up and wowzers – all done!
A note about the coconut: The original recipe for this involves 'creamed coconut', which comes in a solid block form that melts on heating. Creamed coconut is out of this world and I totally recommend it if you can get it. You can read about it here: What is Creamed Coconut and Where To Get It?
To make it universal, I've created this version with coconut milk, because I know just about everyone can get coconut milk. If you have creamed coconut, do go ahead and substitute for that instead.
Anyway, let's make this. I've created a handy print-out version of the recipe below for you…
Coconut, Mint and Pea Soup "out-of-this-world delicious" - Healthy vegan recipe
A popular mint pea soup using coconut. Creamy, super healthy and delicious.
Ingredients
1 large potato (300g)
900g fresh or frozen garden peas (about 2lbs)
400ml full-fat coconut milk (from a can)
2 teaspoons dried mint (or a large handful of fresh garden mint)
1 teaspoon of​ sea salt
500ml spring (or filtered) water
Instructions
Chop potato (leave skin on) into small chunks.
Boil potato with salt, in a large cooking pot. Use enough water to just cover their tops, boiling until soft enough to pierce with a fork. This should take no more than 10 minutes.
Add frozen peas and bring back to the boil, adding the rest of the water.
Add the coconut milk, whilst the pot comes back to the boil.
If you wanted it even richer, then just add more coconut (or creamed coconut, if you have it). Yum!
Add mint.
Simmer for a few minutes once it has come back to the boil.
Blend thoroughly with a hand blender directly in the pan until nice and creamy, adding more water if the mixture is too thick for you. Use a jug blender if you prefer.
Variation:
Use a between 50g and 100g of creamed coconut (the sort that comes in solid 'block' form). Or used 200ml of coconut cream.
Pin for later…