There are lots of ways to make roast potatoes. Traditionally they are partially boiled, drenched in animal fat (we won't be doing that since we are totally plant-based here), and sprinkled with salt. Today I am going to let you in on my Easy Turmeric Roast Potatoes secret and I think you are gonna love 'em!
In this recipe I like to make things easy, so for starters, I've eliminated the need to boil before roasting (besides who wants the extra washing up?).
It helps to dice the potatoes into small cubes. This means that…
Roasting time is quicker than larger potatoes.
You get more of that delicious crispy surface to enjoy.
These easy turmeric roast potatoes need only a tiny amount of oil – yay
I only use a small amount of oil. Rather than drenching (as is often done), it turns out that you can make delectable, more-ish roast potatoes WITHOUT copious amounts of oil. This keeps them even healthier.
Easy turmeric roast potatoes – step by step
First of all, you cut out any gnarly bits from the potato (assuming the potatoes have been scrubbed clean first). Next, you will dice them into cubes. The cubes can be any size. The smaller they are, the faster they will cook. I usually go for 1.5cm to 2cm cubed.
Put them in an oven tray and then sprinkle them with sea salt, black pepper, and turmeric…
Then sprinkle with ground coriander, smoked or sweet paprika, and, a drizzle of oil…
Next, you'll need to toss everything together until the potato cubes are evenly coated. Then pop them into a very hot oven. Temperature-wise, gas mark 7, 425F, 220C usually works fine, depending on your oven. If your oven doesn't crisp things off easily, then put it on an even higher heat. Ovens can be temperamental 😉
You'll need to turn the roast potatoes once or twice during the baking period. Use a metal spatula or something and toss them over before placing them back in the oven.
You will know when they are ready when you can easily pierce with a fork or they are starting to look tanned. Half an hour is usually sufficient for the cooking period.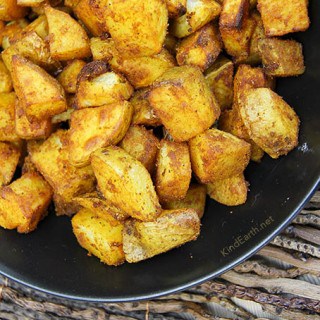 Easy Roast Potatoes - Healthy Turmeric Style
A super healthy turmeric roasted potato with other warming spices like ground coriander, black pepper and smoked paprika. Minimal oil required. Tastes delicious. Easy!
Ingredients
2 large potatoes
1 teaspoon sea salt
Large twist black pepper
1 teaspoon turmeric powder
2 teaspoons ground coriander
½ teaspoon smoked (or sweet) paprika
1 to 2 tablespoons oil (i.e. olive oil)
Instructions
Cut any gnarly bits off the potatoes.
Dice potatoes into cubes 1.5cm to 2cm cubed.
Put potatoes in baking tray.
Sprinkle on sea salt, pepper, tumeric, coriander and paprika.
Drizzle on oil.
Toss until all of the potatoes are coated evenly.
Place into a pre-heated oven at gas mark 7 (425F or 220C). If your oven doesn't usually crisp well then you can cook at hotter temperature.
30 minutes should be enough time to roast. You know when they are done when they start to crisp on the edges and can be easily pierced with a fork.
Enjoy!

Recommended Products
As an Amazon Associate and member of other affiliate programs, I earn from qualifying purchases.
Pin for later…
For something lush to serve with your easy turmeric roast potatoes try these Vegan Butter Bean Burgers…