Nobody quite knows exactly where hummus first originated. It is commonly thought to have originated in the Middle East and historic texts start referring to it as early as the 13th Century in Egypt. I guess what really matters is that it's incredibly delicious stuff!
These days you will find it in most corners of the western world enjoyed by both health seekers and pretty much… well… most people. My son grew up on the stuff. As a super healthy vegan baby, it was one of his first foods. He's been a big fan ever since, always happy to reach for a pot of hummus when diving in the refrigerator or enjoying a falafel pitta bread, dripping with the stuff from his favourite 'Falafel King' food truck in the city.
Hummus is traditionally made with chickpeas, sesame seeds (usually in the form of tahini, which is a paste/butter made from the ground seeds), lemon, garlic, oil, and salt. The best recipes are balanced. The brand of tahini can make a massive difference to the final outcome of the dish. Most people prefer tahini that is well ground and creamy, hulled and without the bitterness. This varies from brand to brand.
In the UK, Suma, Essentials, Sunita
and Cypressa do the best ones. Supermarket own brands are often nice too. You want your tahini to be creamy and delicious and  be sure to get the light versions ('light' means it has been creamed without the husks). In the USA a friend put me onto Achva Organic Tahini which I can recommend for my North American readers.
In this post, I am sharing five absolutely delicious hummus recipes all with different and exciting additions. There is one for every occasion. I wonder which one your favourite will be?
Smoked Paprika Hummus
Smoked paprika in hummus, takes this delicious dip to a whole new level!
It is made with a special variety of pepper – pimiento peppers. Once the peppers are dried, they are then smoked. Traditionally this is done over real wood like oak. The result is a unique and exciting, intense, smoky, sweet flavour! Just pop into the health food store and you should find some there. It works exceedingly well in this hummus.
Hemp & Lemon Hummus
Hemp is one of the most amazing plant foods that exists on our planet!
This recipe actually reminds me of traditional hummus, except of course it has a nutty, hemp seed twist. It lightens it a little and brings in the added benefit of hemp healthfulness. I give the recipe an extra infusion of lemon to tantalise the taste buds too.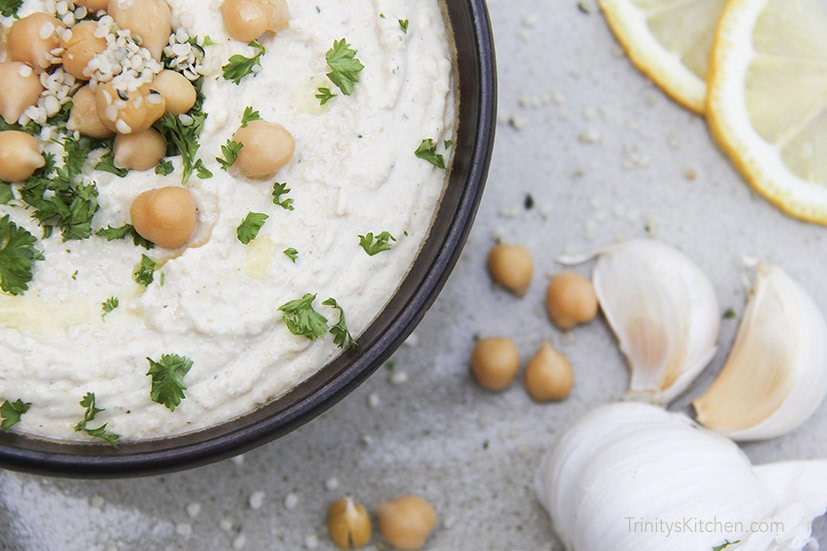 Roast Red Pepper Hummus
In addition to regular hummus ingredients, this variation of the traditional version brings in the delightful sweetness of roasted sweet pepper.
In this recipe I was interested in creating a really appetizing version of hummus – one where the flavours alchemically combine to provide a wonderful infusion of deliciousness. So, I decided to roast the sweet pepper and garlic, since roasting certainly unleashes an incredible fullness of these flavoursome foods.
Beetroot Hummus
Beetroot hummus! It's the taste. It's the incredible nutritional profile. Oh my goodness – it's that colour!
When I make food for groups, it brings me a lot of joy to make sure there is a magical dance of colours on the table at lunch time. Nothing quite makes people go 'wow' like a big bowl of beetroot hummus.
Sweet Potato Hummus
This makes for an ideal hummus solution if you prefer a lighter dip in your daily cuisine.
Again, I am definitely deviating from tradition here by switching the ingredients around a little and also making sweet potato the star of the show! This recipe makes for an ideal hummus solution if you prefer fewer beans in your daily cuisine.
I hope you found something that you enjoyed here.
Trinity x
Share the love and pin for later…