"I think I just breathed in a bit of paradise"
Hike amidst some of the most breathtaking vistas
Relax, recharge, rejuvenate
Enjoy delicious conscious kitchen food
Be part of a fun, friendly retreat
Benefit from some shamanic healing
Enjoy a whole week on the island of La Palma on this Conscious Kitchen Hiking Retreat. Take a trip back in time and disconnect from the busy-ness of life.
La Palma is known as the 'La Isla Bonita' (the beautiful island) because of its breathtaking landscapes, awe-inspiring mountains, rich ancient forests, quiet black-sand beaches, and star-filled night skies. The island is a no-fly zone with strict light-pollution policies that make it one of the most fabulous places in Europe for star gazing. The whole island is a world biosphere reserve offering incredible hiking territory through mountains, forests and along the rugged ocean cliffs. Every way which you turn offers something gorgeous.
Expect laughter, inspiration and a really beautiful experience during our week together. This retreat is a profound, yet informal opportunity to deepen your connection with nature, re-set your rhythm back to one that allows you to breathe and inhale the joy and beauty of life. This week is all about connecting with beautiful friends, being yourself, listening to the guidance of your soul, connecting with our natural rhythms, making and enjoying soul-inspired conscious cuisine. We will also benefit from shamanic healing (with my special guest, more info below) to help clear energies that you are ready to let go of and embody and embrace your true beingness.
What is included?
7 nights accommodation (mostly twin rooms)

Dinner, lunch &

breakfast every day

Hiking amidst some of the most soul-stirring and healing vistas

Shamanic healing (a couple of group sessions and a private one-on-one session)

Conscious food making sessions with tips and guidance

Some free time to just 'be' or wander amidst the local beauty

Visiting local organic produce and craft markets
Standing on top of world at Roque de Los Muchachos, where we will either be above the clouds or able to see the entire island and neighbouring islands. A very special place to be…
We will be enjoying the most gorgeous ancient landscapes…
Beautiful walks abound. The island is so small that you can usually see the wild ocean from wherever you go too…
We will take things at a steady pace, although you will still need a reasonable level of fitness for this trip. La Palma is a steep island with lots of gradients. This also means that you will be treated to some incredible scenery…
See the traditional way of harvesting salt from the Atlantic Ocean when we visit the Feuncaliente Salt Pans and take some home (this is the actual salt I use in my conscious cuisine at home by the way, my favourite in the world).
We will also enjoy an optional trip out in the ocean on a boat where we may well see whales and dolphins…
Warm-hearted retreat with lots of laughter and delicious local food
We'll enjoy making healthy plant-based, gluten-free cuisine together using fresh, local ingredients and superfoods. Group sessions will including making chocolate, superfood sweet treats, amazing salads and spring rolls for packed lunches. Food making sessions are lots of fun, but also optional if you'd rather take time on your own or have a wander and just eat.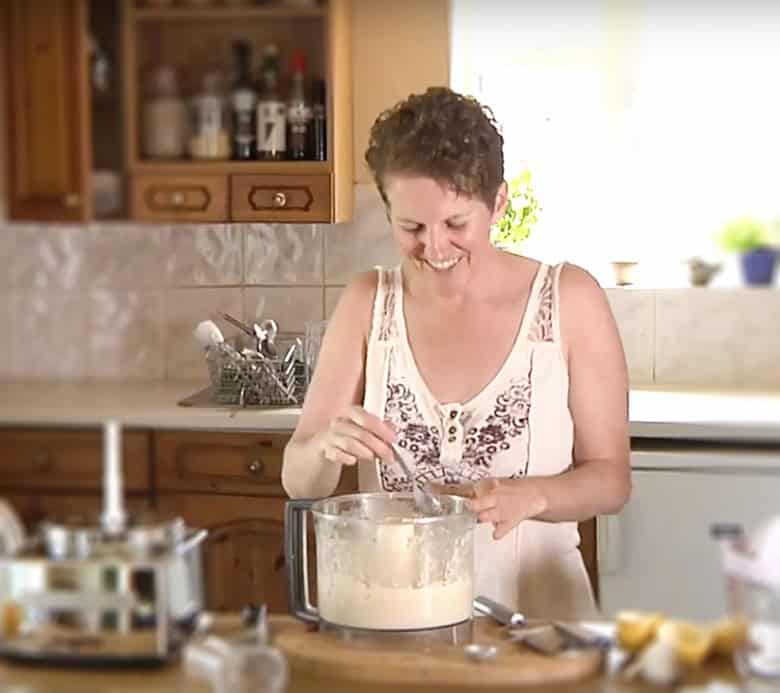 Comfortable Canarian Style Accommodation
The accommodation is lovely. We even have our own swimming pool (actually we have two which sounds really posh!). I have accommodation for up to 6 guests (mostly shared twin bedrooms, although I may be able to offer one or two guests a single option if you are happy to pay a supplement).
We will be staying on the most beautiful part of the island about an hour from the airport.
La Palma Climate in March
The average temperature in March is 19C (65F). We are talking perfect hiking t-shirt weather. La Palma is cooler at higher altitudes and warmer down at sea-level. You will need layers, clothes for warmer weather, and layers in case it gets cooler (I will advise in more detail on what you need to bring).
I will be your retreat host and hiking guide for this trip. I have an incredible deep respect and affinity for the island – it is a place that called me 'home' a few years ago. It's the place on earth where the land and I become one and I feel most at home.
.
Sonya Mallin (Shamanic Practitioner and Special Guest)
I am delighted to welcome Sonya and her warm hearted, light energy on board to support this special retreat. Sonya is a qualified shamanic practitioner with experience in providing a deeply calming, sacred space for people to relax into and access healing treatments that help restore our energy and vitality.
One of the (many) things I love about Sonya is that she is very accessible, real and grounded. She has worked across the public, private and voluntary sectors so has diverse experience of the challenges that we might face. Her shamanic treatments focus on releasing blockages or destructive patterns of behaviour to restore a sense of wellbeing, using the healing power of sound. An element of shamanic journeying through guided meditation may also be involved. Treatments include soul retrieval and past life regression with the aim of restoring personal power.
Sonya incorporates the use of ancient runes in her practice, which provides a greater clarity of our path by looking at our past, present, and future to support change and healing.
Booking information

Price: £695 (all inclusive)

Location: La Palma, Canary Islands. Flights are especially inexpensive with EasyJet from London Gatwick (LGW) to La Palma (SPC).

Dates & Timings: Tuesday 12th March – Tuesday 19th March 2019
We gather in the afternoon on day one and depart after breakfast on the last morning

Booking: Please email me via the contact form CONTACT ME HERE to book. I am happy to talk on the phone too, just ask for my phone number if you'd rather do that. I will reply to your email within 48 hours (usually much sooner) – if you don't hear from me, then my email may have bounced… in which case send an email again with your phone number OR contact me through FACEBOOK HERE
Please don't hesitate to ask if you have any questions…
I am looking forward to welcoming on this very special retreat!
Trinity x