Did you know that matcha can be an excellent calming, anti-anxiety drink? I found this out a couple of years ago when going through a rough patch (we'll say a 'rough patch' shall we and leave it at that lol!). I was researching various anti-anxiety herbs and testing them out on myself (with rather positive effects I must say).
It turns out that matcha is a top-notch source of the amino acid L-theanine. L-theanine has the ability to induce peace and calm upon a person, whilst combined with the other properties of the matcha leaf, it allows for alertness at the SAME time. Magic! This can help if you are nervous, in a state of panic or are suffering from general levels of anxiety (which to be honest seems to be the norm in today's world) but have no desire to be lulled into a drowsy state.
Here's my video – so please take a quick peek to see how I make this drink first…

I've heard that it is far more beneficial to take the amino acid L-theanine straight from the source (i.e. in green tea or matcha) rather than in an isolated pill form. I take it every morning in the form of either green tea or matcha.
Matcha is essentially the WHOLE leaf of green tea, dried and ground into a powder. Where green tea is used as an infused tea (i.e. you brew the leaves and then drink the tea whilst discarding the actual tea leaves) – matcha, on the other hand, involves the entire leaf.
You want to be sure that you get a premium grade matcha powder as the health benefits are said to diminish hugely if you get a lower grade source. Japanese and organic are usually your best bet. Matcha is not cheap stuff. I'll buy a 100g batch and it seems to last me ages. I am consuming it for the health benefits, so I've deduced that the cost is worth it for me personally since I can feel it doing me heaps of good.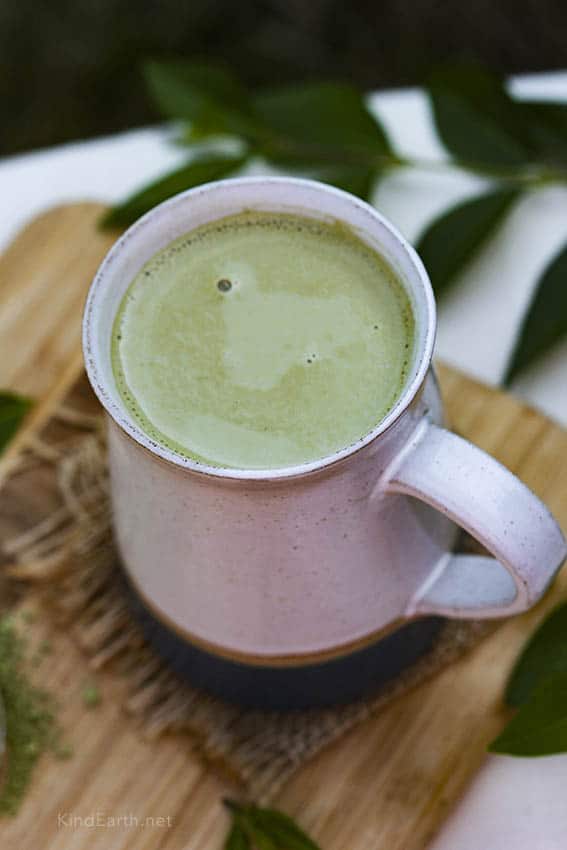 This 'from scratch' vegan milky method without milk?
The method that I am using to make this vegan matcha drink is interesting. You don't need to have any plant-based milk already made! You simply blend up 40g of cashews in 300ml of water, along with the matcha, coconut sugar and vanilla.
The cashews are soft enough that you do not even need to strain them once blended. Easy! Blending also ensures that you don't get any unblended bits of matcha powder (which is also an issue as it can be hard to dissolve the stuff normally).
OK, let's make this…
Calming Milky Matcha Vegan Drink
A hot milky vegan matcha from scratch using cashew nuts, coconut sugar, vanilla, and matcha. It's easy, quick and really good for you.
Ingredients
40g cashew nuts
300ml water
1 heaped teaspoon matcha powder
1 heaped teaspoon coconut sugar
1 teaspoon vanilla extract
Instructions
Blend all of the ingredients together in a high powered blender for at least 45 seconds. There is no need to strain the mixture when done.
If you don't have a high powdered blender, then soak your cashews for at least an hour before step one and then blend a little longer.
Heat in a sauce pan gently until hot, but NOT boiling. This should only take a minute. The heat is important (i.e. do not overheat). If you boil it the cashew milk that you've created may begin to separate. Keep an eye on it and take off the heat as soon as it is hot to your little finger.
Serve immediately. Adjust to taste by adding more sweetener or vanilla if preferred. You can also substitute other sweetener such as maple syrup for the coconut sugar.
Recommended Products
As an Amazon Associate and member of other affiliate programs, I earn from qualifying purchases.
Pin for later…