I've often thought that if I owned a food van serving street food, then beetroot falafels would be top of my menu. They're traditionally deep-fried (I grill or bake mine, as you'll see in a minute when we get to the recipe) and served in pita bread (making them an excellent grab n' go food). And here's the best part – they just happen to be incidentally vegan – yay!
For finer dining, falafels might be served as part of a mezze platter, along with salad, roast veggies, quinoa, and sauce (especially tahini sauce).
Please take a peek in my kitchen and watch the short beet falafel video first…
I just love that about falafels, they can be super posh or simply simple, whatever the moment calls for.
Beetroot falafels with roasted beetroot
Anyway, this week beetroot is happening again in my kitchen, so I couldn't resist sharing one of my favourite falafel recipes. This one is made with roasted beetroot.
There is something about that colour that really excites people when I serve these. It's bright, it's joyous and it makes people smile – and that's before we even get to that delicious taste.
In this variation, I roast the beetroot, to help bring out its earthy, sweet depths. I also bring in coriander leaves (cilantro) for vibrancy and freshness.
Falafels originated from the Middle East
Falafel originated in the Middle East, traditionally made with chickpeas or fava beans (you might know fava beans as broad beans if you live in the UK). These days you can find falafels all over the world, very popular in the west.
There are lots of different falafel variations and methods of cooking. I created my first homemade falafels many years ago, after reading the ingredient list on a falafel packet (essentially chickpeas, garlic, salt, ground coriander, and cumin). I experimented with different ratios and at one point even tried chickpea flour (gram flour) until I found balances and blends that inspired me.
In my recipe here, it is the moisture of the chickpeas that holds everything together. It wasn't long before I could resist playing with different spices, herbs, and other ingredients.
Beetroot falafels are even healthier than regular ones
Beetroot gets my top vote for its incredible nutritional profile. It is said that it can help lower blood pressure, improve stamina and support healthy liver function. So it was only a matter of time before it appeared in my falafel.
Beetroot has excellent antioxidant properties. It is high in glutathione, polyphenols and betalains, which all have excellent anti-oxidant properties. Anti-oxidants play a key role in the prevention of most chronic diseases, due to their ability to counteract the effects of free radical damage on human tissue.
Beetroot is also rich in essential nutrients such as… Folate (folic acid/B9) which is essential for DNA synthesis and repair. Manganese which is good for skin & bone health; blood sugar management; protection against free radicals. Helpful for blood pressure regulation and kidney health. Vitamin C – a powerful anti-oxidant; helpful for wound healing; blood sugar regulator. This root vegetable also has good levels of zinc, iron and copper for maintaining general healthy body function.
Read on here for more about beetroot…
Coriander leaves (cilantro) are a wonderful addition to these beetroot falafels, with its hint of green to compliment the beetroot red and its plethora of antioxidants and beneficial nutrients. It doesn't dominate the flavour, but simply compliments it (and if you don't like coriander leaves you can swap for parsley or just leave it out altogether).
Roast Beetroot Falafels with Tahini Sauce - easy gluten-free vegan deliciousness
A delicious beetroot inspired falafel recipe with the addition of optional coriander (cilantro) leaves. Baked or grilled (broiled if you are in the USA) to maintain a wonderful, healthy, gluten-free, vegan falafel.
Ingredients
2 beetroots (just under tennis ball size)
2 large garlic cloves
250g (2 cups) cooked chickpeas
1 handful fresh coriander leaves (optional)
1 tablespoon ground coriander
1 heaped teaspoon ground cumin
1 teaspoon sea salt
Instructions
Ahead of time: Slice the rough neck/top off the beetroots and discard. Chop the remaining beetroot into cubes (1.5cm/half an inch cubed in size). Bake in the oven on a baking tray for about 45 minutes on a high heat. When done, take out and leave to cool until you are ready to make the falafels. This can be done ahead of time, or the night before when you are using the oven for something else.
When beetroot is ready...
Add all ingredients into a food processor and blend until everything has broken down. It doesn't need to be pureed completely, just broken down into tiny pieces so that when you compress, everything binds together.
Please watch my video (below) for a visual guide and you can't go wrong. If it seems a little too crumbly then I recommend adding a teaspoon or two of water or olive oil. Moisture depends on how much the chickpeas have been drained or how the moisture level of the baked beetroot.
Roll into balls (a little smaller than golf balls in size).
Press the balls down into mini patty shapes.
Place onto a grill tray (broiler in the USA) and grill on a medium/low heat for about 8 minutes on each side. (You can also bake these in the oven as an alternative to grilling).
Serve right away.
This served really well with tahini sauce - check out my Easy Tahini Sauce Recipe here
Tahini Sauce Recipe…
If you want to make your own chickpeas in batches from dried then check this page out here: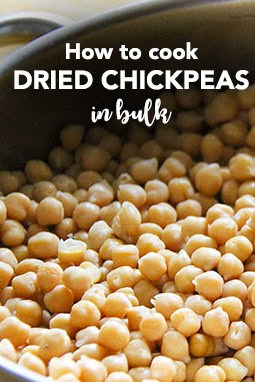 Pin for later…