Many years ago I visited my in-laws in Stoke-On-Trent in Staffordshire, England. My ex-husband introduced me to a delightful invention – the 'Staffordshire Oatcake'. Not only were they naturally vegan, but the traditional versions were also wheat-free.
We stuffed them with hummus and salad and enjoyed the most delicious lunch. Another time, we rolled them up to dunk in our tomato soup. And then there was this other occasion when I had the rather bright idea of using them to create an enchilada – oh yum!
The oatcake wrap is a rather genius sort of pancake
typically made using a flat bottomed griddle or cast iron skillet.
This 'oatcake' can be used to fill with the contents of your choice for breakfast or lunch, like a wrap or crepe – or simply used as a simple alternative to bread. This oatcake, however, is not to be confused with the Scottish 'oatcake' which is actually a biscuit or cracker.
After going gluten-free a few years ago I started to miss my spelt bread – ahhhhhh. It wasn't long before that yearning to create delicious alternatives began to inspire me. As it happens, I was lying in bed one morning, day-dreaming when the vision of this oat wrap popped into my thoughts. It all made sense.
I simply imagined creating a batter from ground oats and water and doing a bit of culinary magic on a cast iron griddle or skillet. I quickly bought myself a cast iron skillet – which is when the fun began! Personally, I use gluten-free oats (but if you don't eat GF, then just use any oats). What are gluten-free oats? Read HERE.
Before long I'd figured out that I needed to make a pourable batter and pour it on the skillet. Much to my joy, it worked and after a few attempts, I'd found different formulas, all with slightly different outcomes.
I was particularly looking for something pliable and flexible that didn't break easily when finished; something that you could wrap salad and hummus in. It turns out that to achieve that is quite easy with a flat bottomed cast iron skillet and a few tips.
Step 1: Create the batter (scroll for the recipe below).
Step 2: Smooth it on to your piping hot skillet.
Step 3: Give it a minute or two to come together.
Step 4: Flip it over.
Step 5: Pop it into a lint-free tea towel (USA: dish towel) or kitchen towel/paper for 10 to 15 mins.
Step 6: Enjoy as is or stuff with your favourite ingredients.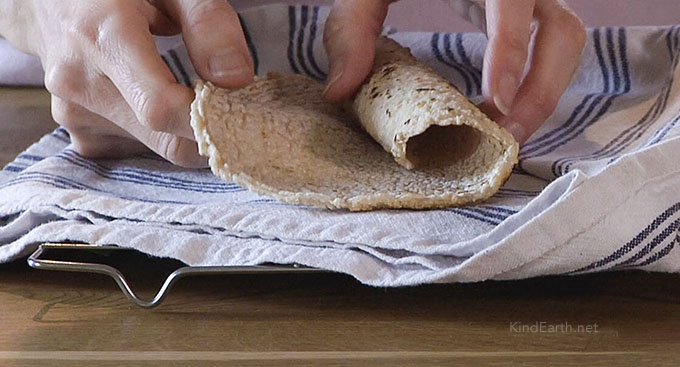 Important tips for making these simple oatcake wraps…
Make sure your griddle or skillet is hot enough. The mixture needs it to be really hot to do its culinary alchemy and to stop it sticking to the pan.
Make sure your batter is not too thick – yet not too thin.
Be sure that you have a smidgen of oil to evenly coat your cast iron skillet between rounds, to prevent sticking (this only need be a minimal amount).
The written recipe is below. Please watch this video first for a quick visual guide on how to make these…

Simple Oatcake Wraps Using A Cast Iron Skillet - 2 ingredients (GF vegan)
A delicious staffordshire oatcake wrap recipe made using oats and water (with salt and pepper to season). Easy, naturally vegan and can be gluten-free (if using gluten-free oats).
Ingredients
150g ground oats (1 1/4 cups approx)
250ml water (1 cup)
Big pinch sea salt
Instructions
Either buy ground oats or grind them yourself. You can usually do this in a food processor, high powered blender or nut mill.
Mix oats, water (with salt and pepper) together. Use a jug and a fork to 'whisk' these ingredients together until evenly combined and without lumps.
Leave mixture to settle for a few minutes (it will thicken in this time) and stir/whisk again (see my video for demo). You need a batter mixture that is thick, yet easy to pour. If it is too thick then the oatcake wraps will likely crack. If it is too thin then it might do other weird stuff hahaha. The best way to learn this is by 'feel' and experience or trial & error. If your mixture is too thick, add a dash of water to thin. If it is too thin, then add a small amount of ground oats to it.
Heat your cast iron skillet until it is piping hot.
Pour about a quarter of your mixture onto the surface of the skillet (watch video for demo) and quickly smooth out with a flat-ish bottomed spoon.
It will quickly change consistency with the heat, within a couple of minutes.
Use a metal or heat-proof spatula (known as fish-slice in the UK) to gently tease the edges of the wrap. If it's going right, then the whole wrap should lift up effortlessly. If there is any resistance then leave it another minute. Once you peek underneath and see it starting to tan ever so slightly you can flip it over and cook the other side for a minute or two.
When done, pop onto a cooling rack between the layers of a lint-free tea towel (in the USA they are called dish drying cloths or something like that) or between layers or kitchen towel/paper. This important to help them soften if you want to roll them up. Leave them for 10 to 15 minutes and that should be enough time to soften enough so that you can roll them.
Stuff with your favourite dip and salad ingredients and enjoy for lunch. Alternatively stuff with a bean recipe like this Spicy Black Beans One Pot and create enchiladas. Or simply roll and use as an accompaniment to soup.
Explore and enjoy!
Recommended Products
As an Amazon Associate and member of other affiliate programs, I earn from qualifying purchases.
Pin for later…