Full weekend of workshops and classes

3 nights of private or shared accommodation

Delicious superfood treats to take home

Printed retreat book with recipes and classes
I am delighted to announce that I will be holding the Conscious Kitchen Summer Retreat near Glastonbury, England at the end of June/beginning of July 2023.
As always, this will be a truly special, and uplifting event. In a peaceful, fun environment, this Conscious Kitchen Retreat is all about inspiring you in the kitchen, using healthy, compassionate, plant-based ingredients.
You'll take away new ideas and tips for bringing delicious plant-based food into your own daily life.
The venue is located 15 minutes from Glastonbury, near Wedmore. It's only a 30-minute drive from Bristol airport.
Accommodation is very comfortable and is limited to 5 or 6 guests.
What will we be doing on retreat?
Making food from the heart
Over the course of the retreat, we shall create a delicious medley of nurturing feel-good summer foods, super healthy vegan bakes and patties with dinner, a curry night medley, sunshine mandala salad plates, healthy ice cream, homemade chocolates, and other plant-inspired cuisines. We will enjoy abundant meals together and make some food to take home.
Yep – we'll be making these…
… and lunch mandalas!
Superfood sweet treat masterclass
Using nuts, seeds, and superfoods along with dried and fresh fruits, we'll uncover the magical alchemy of raw food sweet treat making. We shall be making raw superfood sweet treat recipes with my secret recipes.
Incredibly delicious curry night medley workshop
In the curry night workshop, you will learn how to make super healthy curries, dahls, chutney, chappatis, perfectly cooked rice, and more. We will create lots of delicious things and enjoy a curry night feast in the evening. Be warned tho', you will be spoiled for choice and won't know where to start haha!
Feel-good gluten-free vegan dinner-making class
You will learn how to make a delicious gluten-free vegan bakes and patties. Think mouth-watering medley of deliciousness… but easy! Not only is this sort of thing exceedingly healthy, but it is also very tasty and loved by people no matter what they are used to eating. Easy when you know how to.
We shall enjoy a special session to learn the art of making whole complete salad meals for lunch. This session includes make-ahead food ideas to keep in your fridge all week long. We'll be making nutritious cooked items along with slaws, dips, and pates and then getting into super arty fun by make our own divinely delicious sunshine mandala for lunch.
Summer rolls master class
Always a favourite session on retreat. We'll learn my special, fail-proof techniques for making the best ever summer rolls for lunch.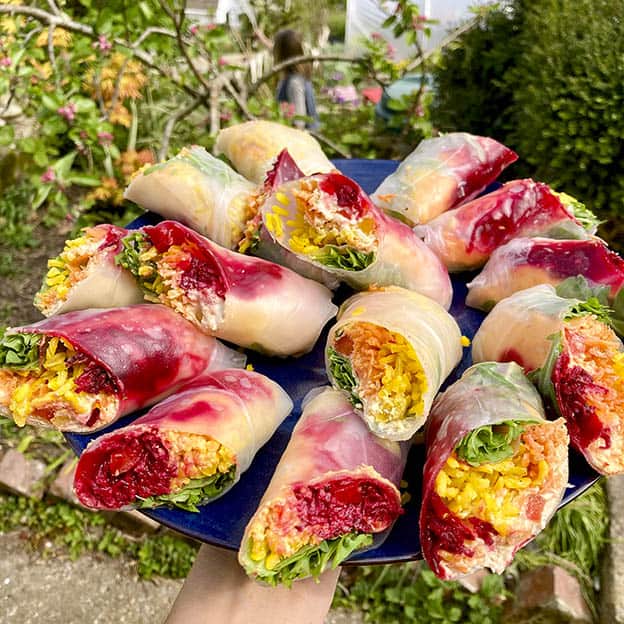 In the chocolate-making class, you'll be learning how to make the most delicious, healthy, vegan chocolate.
Conscious vegan ice cream
Since it is summer, we will enjoy some of the most deliciously healthy plant-based ice cream ever. I'll be sharing my top tips. Be warned though – life will never be the same again once you melt into your deliciously delectable creations.
Retreat timings
We gather from 5pm on Friday 30th June and finish after breakfast on Monday 3rd July.
On the first evening, you will be served a delicious meal, with time to meet other guests and settle yourself in before starting our workshops the following morning.
Cost with accommodation included
The price includes accommodation, all meals, and a full schedule of plant-inspired food-making classes within a small group.
We have beautiful accommodation for up to 6 guests to stay…
Room 1
King-sized bed and private en-suite bathroom with shower and bath
£495 (single person) (NOW BOOKED)
Room 2
Huge super king double OR twin beds with private ensuite
Guest 1: £365 (shared occupancy) (NOW BOOKED)
Guest 2: £365 (shared occupancy) (NOW BOOKED)


Room 3


Double bed with a shared huge bathroom with bath and shower (which is shared with one other room)
£425 (single occupancy) (STILL AVAILABLE)

Room 4


Twin room (adult-sized bunk beds) – includes a shared bathroom with a huge bath and shower (shared with one other person). Best budget option.
Guest 1: £295 per person sharing (NOW BOOKED)
Guest 2: £295 per person sharing (NOW BOOKED)
My name is Anastasia Eden and I've spent the last 28 years developing absolutely delicious and nourishing plant-based recipes. In that time I have gained experience preparing food for thousands of people on retreats around the world and have run a whole bunch of retreats along the way.
Please do get in touch if you have any questions… or even if it's just to express an interest. I'd be delighted to hear from you.
Anastasia x