"Unleash your joy in the kitchen
Take your food-prep to a whole new level
Be inspired"
Enjoy a few days creating the most delicious, healthy cuisine this summer. Expect laughter, inspiration and a truly beautiful experience. This hands-on summer school is an informal, yet comprehensive course offering the perfect opportunity to deepen existing knowledge and ignite your passion for inspiring healthy plant-based 'conscious kitchen style' food. As well as creating tasty, conscious dishes, we'll be tuning into the energy of the ingredients and understanding how they guide and 'speak' to us. This summer school is a celebration of love for the inter-connectivity of all life, with foods that can help to heal, inspire and raise our vibration.
Accommodation is included. Friendly with lots of laughter. We'll learn the ins and outs of making healthy plant-based, gluten-free, free-from-refined-sugar cuisine, whilst taking a moment to pause, connect and feel the energy of the food that sustains us. By the end of the summer school, you will be able to go home and apply a myriad of new techniques and inspiration to your own daily food-prep.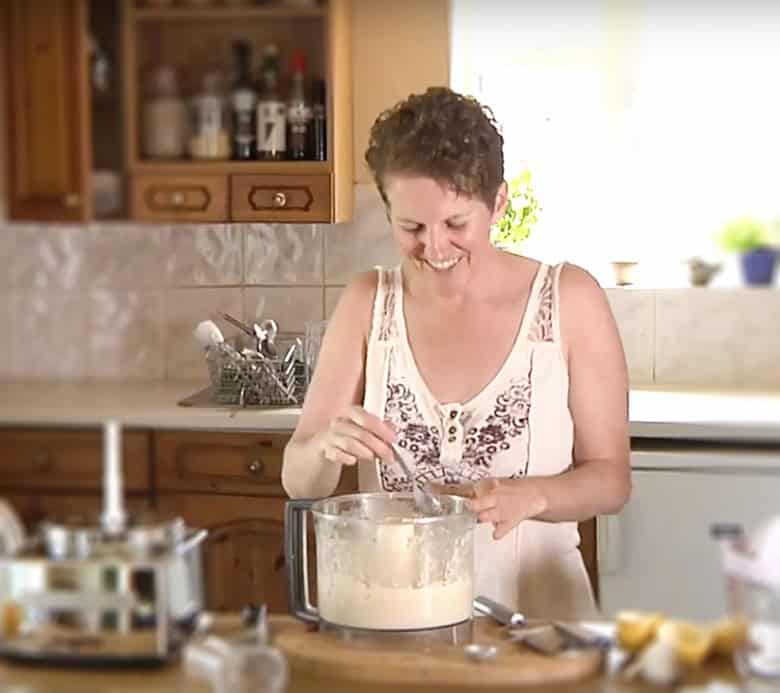 We will learn and explore the following:
The importance of preparing food with love

How to eat consciously to raise your vibration

Listening to your own inner kitchen wisdom and intuition

How to embrace conscious foods in your everyday life

Meditating with herbs and spices

Lots of healthy meal ideas, with easy recipes

Edible lunch mandalas with vibrant salad and dips

Fundamentals of superfood dessert making

Making tasty vegetable juices and exploring their benefits

How to make sauerkraut and the benefits of fermentation

Out-of-this-world homemade ice cream secrets

Art of super healthy chocolate making – with love

Tasty vegetable juices and exploring their benefits

Mastering spring rolls that work every time

Easy homemade plant-based milks

Everything you need to know about plant-based pantry staples

Kitchen tips, secrets, and laughter galore
(Topics subject to slight change depending on the group)
Accommodation included
I have beautiful accommodation for up to 6 guests to stay (included in the price). Bedrooms are mostly shared (twin with another course participant of the same gender), although I am happy to offer a couple of private single occupancy rooms on request (for a supplement – please ask).
What will we be doing on retreat?
Making food from the heart
This summer school is a celebration of love for the inter-connectivity of all life, with foods that can help to heal, inspire and raise our vibration. We will be looking at the importance of making our food from the heart. Tuning into the energy of the ingredients we will learn to understand how they guide and 'speak' to us with a plant spirit healing meditation.
Superfood sweet treat secrets
Using nuts, seeds and superfoods along with dried and fresh fruits, we'll uncover the magical alchemy of raw food sweet treat making. The only question is… can you handle this much delectable deliciousness?
Super healthy chocolate made with love
The art of making healthy chocolate with love is an especially fun activity. Create your own unique chocolate bars to nibble throughout the day.
Homemade conscious kitchen ice cream
Since it is summer, we will enjoy some of the most deliciously healthy plant-based ice cream ever. I'll be sharing my top tips. Be warned though – life will never be the same again once you melt into your deliciously delectable creations.
Sauerkraut made simple
Simple, easy and a world apart from the stuff you buy in the shops. We will learn about the wonderful health benefits of sauerkraut, fermentation and we'll each create our own to take home.
Colourful and nutritious salads, dips and spreads
A fundamental part of conscious kitchen cuisine, we'll make a myriad of different and exciting high-vibe salads, dressings and dips to inspire your daily food at home. Jam packed full of health-affirming goodness, salads and dips we'll be buzzing with wonderful energy all week long.
Juicing for health
We'll enjoy making fresh vegetable juices of all colours. Think '8 vibrant salads in a glass'. We will look at different ways to make healthy vegetable juices that will keep you coming back for more.
Homemade spring rolls making
Always a favourite session on retreat. We'll learn my special, fail-proof techniques for making the best ever spring rolls for lunch, every time.

Creating easy meals when you are short of time
We will pay special attention to learning the art of creating food when you don't have much time. We'll explore time-saving techniques and methods to ensure that you can enjoy healthy, conscious cuisine at home on a daily basis, no matter how much time you have to spare.
Super healthy pantry staple ingredients
We will look at everything you need to know about plant-based kitchen ingredients and pantry staple foods and ingredients. I will demystify any unusual ingredients and help you to learn how to use them all with joy.
How to use herbs and spices
We'll explore how to make the most of fresh and dried herbs and spices, whilst weaving them into your delicious cuisine. We will have access to an abundance of fresh herbs and spices during the retreat.
Retreat accommodation
The retreat will be held in a gorgeous location in the Somerset countryside in the South West of England. We have a beautiful and spacious converted retreat barn with a large farmhouse kitchen, two living rooms and a big conservatory/sunroom. We also have private walled gardens and space for dining outside (only a glimpse of which is captured by these snapshots)…

The venue is located 15 minutes from Glastonbury, near Wedmore. It's only a 30 minute drive from Bristol airport.
Accommodation is very comfortable and is limited to 6 guests (plus myself).
There are 2 private double rooms (used as 'single' rooms) and 2 shared 'twin' rooms.
Booking information

Price: £425 (including all food, 4 nights accommodation, all activities).
Extra supplement if you want a room all to yourself.
If you are struggling financially shoot me an email, I can sometimes help out with a reduced price place or two.

Location: The location is 15 minutes by car from Glastonbury in Somerset England. The nearest airport is Bristol (30 minutes by car or taxi). I can also advise on lift sharing if needed.

Dates & Timings: Monday 15th July – Friday 19th July
We gather at 4.30pm on Mon and depart after breakfast on Fri.

Booking: Please email me via the contact form CONTACT ME HERE to book. I am happy to talk on the phone too, just ask for my phone number if you'd rather do that. I will reply to your email within 48 hours (usually much sooner) – if you don't hear from me, then my email may have bounced… in which case send an email again with your phone number OR contact me through FACEBOOK HERE
Please don't hesitate to ask if you have any questions…
I look forward to welcoming you here soon!
Anastasia
(previously known as Trinity Bourne – if you'd like to read about why I reclaimed my birthname Anastasia please read here)