Hummus is fabulous stuff. You can add it to a salad, have it in a sandwich or wrap, enjoy a hearty dollop on a baked potato, dunk veggies or potato wedges in it or simply pop it in some pita bread with falafels.
Traditionally hummus was made with chickpeas, tahini, lemon, oil, garlic and salt, all mushed together manually with a pestle & mortar of some sort (worry not, my friends, today we are going to use a food processor or blender to make ours).
I am definitely deviating from tradition here (like usual lol) because today I am switching the ingredients around a little and also making sweet potato the star of the show! The reason that I love to add sweet potatoes is because I am one of those people who doesn't particularly enjoy eating too many beans (in this case chickpeas). This makes for an ideal hummus solution if you prefer fewer beans in your daily cuisine.
I am using pretty standard ingredients. The difference is that I am not adding oil (except for an optional drizzle of hemp oil on top) and I am popping in a healthful portion of sweet potatoes. The moisture and creaminess of the sweet potatoes mean that oil is not really required either, making this lighter than usual hummus – yay!
You are going to either boil or bake the sweet potato first – so what's the difference? Boiling keeps the flavour more subtle, which is sometimes desirable. Boiling envelopes the sweet potato in (boiling) water, hence infusing it more rapidly with heat. The benefit of boiling is that you can cook your sweet potato a lot quicker (say 10 minutes).
Baking, on the other hand, has the benefit of bringing out a gorgeous deep, sweet caramel flavour of the sweet potato. This is probably my favourite method. The downside is that if you want to work quickly, then baking does take longer. If you are prepared though, it is definitely worth that little bit of extra time.
Talking about sweet potatoes. Did you know… they are especially high in vitamin A (in the form of beta-carotene)… in fact, one sweet potato is said to carry at least 400% of your RDA!
They also have high levels of Vitamin C & the B vitamins, manganese, potassium, copper, phosphorus, antioxidants – to name a few.
Who'd have thought that one of the most delicious vegetables could be such a nutritional powerhouse? As if that's not enough, they've also been shown to help regulate blood sugar levels (even in people with type 2 diabetes). Here's another delicious recipe for sweet potato fans too: Turmeric & Ginger Sweet Potato Soup
I love that hummus is naturally vegan. I'd never much heard of hummus until I was in my early 20's – I guess it wasn't much of a thing here in England. Now it's everywhere and just about everyone loves it.
It's often a bit of a staple food in any discerning health-seekers fridge. I mean it is chock-full of healthy protein (chickpeas and tahini), essential fats (tahini), super anti-oxidants and health affirming goodness (lemon and garlic).
Homemade hummus is infinitely better than the regular shop bought varieties too!
Storage of your sweet potato hummus and how long does it keep? This stores well in a sealed container in the fridge for about five days. Use glass if you have it (from a health perspective, plastic does leach trace amounts of chemicals into your food). Apart from that glass just feels so much nicer than plastic.
The wonderful thing about this recipe is that it freezes nicely too. That means you can make a big batch ahead of time and take out as little or as much as you need over the course of a month or two.
Top tip for freezing: Put it into smaller containers so that you can take out the exact amount you need (it's impossible to separate a small amount out if you freezer it all together in one big container).
Sweet Potato Hummus
A delicious sweet potato hummus using chickpeas, lemon, garlic tahini, ground coriander. Serves well with falafels, in a sandwich or accompanying a salad.
Ingredients
1 medium sweet potato (about 300g)
1 large garlic clove
2 lemons (medium sized)
1 teaspoon sea salt
200g cooked chickpeas
7 tablespoons tahini
5 tablespoons water
2 teaspoons ground coriander
1 tablespoon tamari
Twist of black pepper (optional)
Instructions
Start by cooking your sweet potato. The quickest method is to boil it. Peel the skin, chop into small cubes and boil until you can pierce through with a fork. Once boiled, let them cool a bit before using.
Alternative to boiling: bake in the oven for a deeper, richer, sweet potato flavour (baking takes quite a bit longer but makes it more delicious). After baking, allow it too cool and then scrape out of the skin.
Take the skin of the garlic and crush.
Juice the lemons.
Add all of the ingredients into a food processor.
Blend until creamy smooth - or to your desired consistency.
It is best chilled before serving... so allow time for that.
Pin for later…
Some other delicious hummus recipes on my blog…
Beetroot hummus
Smoked Paprika Hummus
Lemon & Hemp Hummus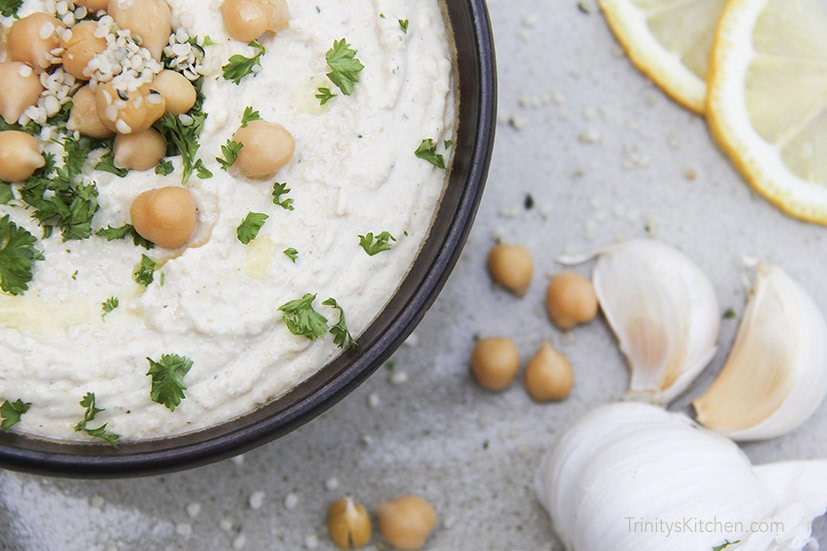 Roasted Red Pepper Hummus