We live on an earth filled with a treasure trove of exciting herbs and spices that lend themselves well to this Thai coconut curry. When you find the right combination of fragrant herbs and gently warming spices, each ingredient infuses into an alchemical dance, creating an enchanting feast for all of the senses.
I adore organic herbs in my daily cuisine. Preferably from right outside of my back door. However, here in the UK, what we can grow is limited to what wants to grow in a temperate climate. Some of my favourite spices like ginger, nutmeg, cardamom, kaffir lime and turmeric, all thrive best in subtropical countries. In this case, I always like to source the finest quality organic ones that I can get my hands on.
Fresh is usually the best for aroma and balance of flavour. Dry herbs and spices, however, often bring an excellent intensity of flavour. Not only do quality ingredients deliver the best health benefits, but the flavours can infuse your cuisine with a heaven-sent aroma and taste. It can transform your normal meals into one of life's most exquisite pleasures.
A tantalizing medley of warming spices for a perfect Thai Coconut Curry

The recipe I am sharing here today totally excites my taste buds with a tantalizing medley of warming spices.
This Thai Coconut Curry, uses kaffir lime for a tangy kick; cardamom pods for an exquisite burst of sweet, spicy excitement; coriander, turmeric and lots of other delicious things. I use creamed coconut to give it a full tropical coconut experience (see below for more about the coconut that works best for this recipe).
Let's explore some of the key ingredients that make this delicious meal work…
The importance of using cardamom from the pod rather than pre-ground in this Thai coconut curry
Using cardamom pods and grinding the seeds fresh, undoubtedly delivers the most profound cardamom experience. Pre-ground seeds rapidly lose their aromatic flavour and are a far cry from the eloquence that makes them one of the world's finest spices.
I always buy green pods (white either means they've been bleached or are just too old – black pods come from a different variety).
If you can it is best to discard the outer-shell of the cardamom. You can crush the seeds with a pestle and mortar (which takes a few seconds). If you don't have a pestle and mortar you can crack open the pod and chop them up. Simply put the seeds on a chopping board and chop them over and over again with a sharp heavy knife, until you get powdered cardamom.
See a demo on how to use cardamom pods in my video here:
The aroma is amazing and the seeds flood the recipe with a sweet heavenly flavour.
You can substitute with the pre-ground stuff if you really have no other option, but bear in mind that it won't work quite the same.
If at all possible, get the pods and crush the seeds yourself for an authentic culinary experience. Read all about cardamom here: All about cardamom and its benefits
Kaffir lime leaves for a tangy Thai Coconut Curry spicy zing!
Kaffir lime leaves are used widely in Thai and South-East Asian cooking, imparting a tangy, spicy, lime-like zestiness to soups and curries. They make a perfect addition to this Thai coconut curry.
You use lime leaves like bay leaves, in that you have to take them out of the dish before eating. That's an important note to remember!
Tips for getting kaffir lime leaves
Kaffir lime leaves are usually available in good health-food stores and ethnic shops that sell herbs and spices.
If the leaves look grey, then they are too old. Be sure that they are still green (slightly faded is natural if they have been dried).
Is there an alternative to kaffir lime leaves?
Lemongrass makes a good substitute for kaffir lime leaves.
If you have neither, then mix in a handful of chopped basil at the end of your dish.
Using creamed coconut for Thai coconut curry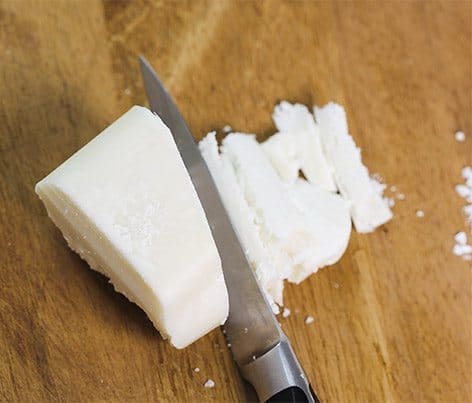 Creamed Coconut
(not to be confused with 'coconut cream') comes in a pure, solid, concentrated block that melts on heating, giving this dish a delightful, tropical flavour and creaminess.
It is the unsweetened dehydrated fresh 'meat' of a mature coconut, that has been ground into a semi-solid white cream. It solidifies at normal room temperature.
You can find creamed coconut along with coconut milk in health food stores. It is often available in the world food section of a supermarket too.
Creamed coconut melts when it hits the heat. Read more about creamed coconut block in this article here: What is creamed coconut (versus coconut butter)?
If you want to substitute creamed coconut for coconut cream?
Confusing I know haha!
You can also use coconut cream (which has the consistency of yoghurt) for this recipe. You'd probably need about 250ml (about 1 cup) and may have to use less water, depending on the thickness of your cream.
Let's make this Thai Coconut Curry
This curry serves perfectly as a 'stew' on its own and works well with rice, quinoa, millet, etc. It is a flavourful, chili free recipe with spices that warm the soul.
Thai Coconut Curry with kaffir lime leaves and butternut squash
Yield:
4 bowls (with rice)
A Thai curry inspired with kaffir lime leaves, coconut, butternut squash and chickpeas. A delicious fusion of warming spices. Chili free.
Ingredients
1 large butternut squash (1kg or 2lbs approx)
350ml (1½ cups) water
10 kaffir lime leaves
7 cardamom pods
1 heaped teaspoon grated ginger
4 large garlic cloves
1 teaspoon celtic sea salt
2 heaped teaspoons ground coriander
1/2 teaspoon turmeric powder
1/4 teaspoon black pepper
250ml (1 cup) passata (called sieved tomatoes in the US)
200g (1 cup) cooked chickpeas
100g (3½ oz) creamed coconut (see notes)
40g spinach ( a large handful)
Small handful of fresh basil leaves
Instructions
Bake the squash
Peel, de-seed, and dice the butternut squash into chunks of about 1.5cm (or ½ an inch) cubed. Larger chunks are fine, although you'll need to add extra baking time.
Place the squash onto a baking tray and pop into an oven heated to gas mark 7 (425F/220C).
Bake until you can pierce a fork through the chunks. This may take 30 - 45 minutes.
Whilst the squash is baking make the rest of the curry
Place the kaffir lime leaves and 350ml of water into a medium sized pan and bring to the boil. (Note: Count the kaffir lime leaves as you put them in and remember how many you used because you will have to remove them at the end of the cooking period. They are meant for flavour, rather than eating).
Take the seeds out of the cardamom pods and crush with a pestle and mortar (or alternatively chop repeatedly over and over with a sharp heavy knife until they look ground). Toss them into the pan.
Peel and grate a heaped teaspoon worth of fresh ginger. Toss it into the pan.
Peel and crush 4 large garlic cloves and add to the pan.
Add the sea salt, coriander, turmeric, black pepper, passata, creamed coconut and chickpeas to the pan, stir together and allow all of the flavours to infuse. Let this simmer on the lowest heat for about 20 minutes and turn off the heat.
(Don't add the spinach leaves right until the end - AFTER you remove the kaffir lime leaves.)
Once the squash has baked, take the kaffir lime leaves out of your other pan. When you are happy that all of the lime leaves are out, then roughly chop the spinach and mix in the curry pan along with the roasted squash.
Add a little extra water if the sauce is too thick.
Use the basil to garnish.
Serve with rice, quinoa or millet or on its own as a stew.
Enjoy
Recommended Products
As an Amazon Associate and member of other affiliate programs, I earn from qualifying purchases.
More easy vegan recipes for your curry night…

Pin Thai Coconut Curry for later…