"Unleash your joy in the kitchen &
learn how easy plant-based cuisine can be to make"
Enjoy a full day (or a whole weekend) learning how to create the most delicious, healthy cuisine. It's a lot easier than you might think. This hands-on workshop is an informal, yet comprehensive experience designed to ignite your passion for inspiring healthy plant-based 'conscious kitchen style' food in your everyday life.
Please note: if you are attending the 'Conscious Kitchen' workshop on the previous weekend – this weekend is different, designed to be complimentary.
In a relaxed and fun environment, we'll learn the ins and outs of making easy plant-based, gluten-free, free-from-refined-sugar food. On day one, we will prepare and enjoy a wonderful vibrant feast of 'buddha bowl' deliciousness together for lunch, whilst we explore different, inspiring ways to make salads and dips. On day two we will be learning how to make super easy spring rolls 'bursting with healthful vibrancy' for lunch. We'll move on to things like superfood sweet treats, homemade chocolates, sauerkraut making, homemade nut milk, superfood smoothies and chia puddings. Bring a couple of containers, because there'll be plenty to take home!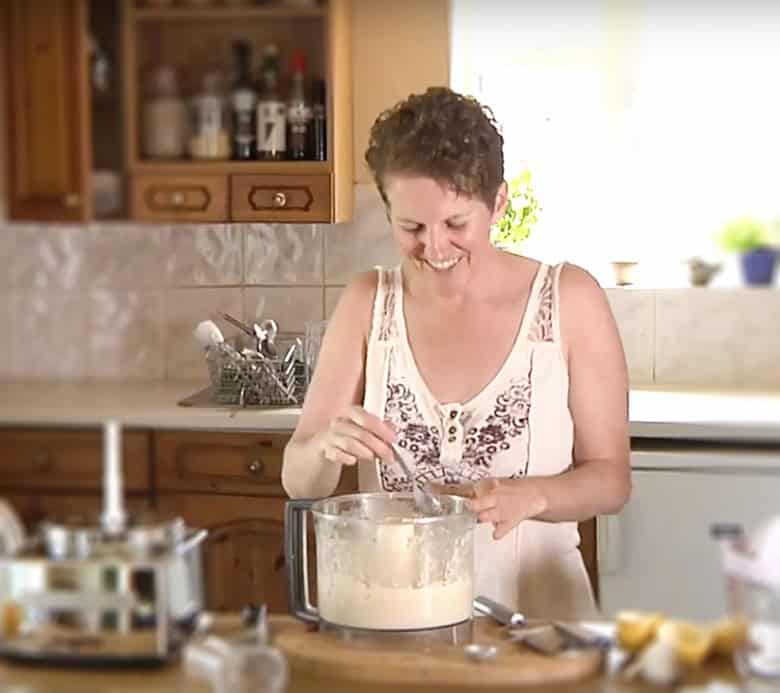 We will learn and explore the following:
DAY ONE: Saturday, April 20th
exploring a myriad of delicious, vibrant salads & dips

make your own buddha bowl for lunch

how to make sauerkraut and the benefits of fermentation

fundamentals of raw food sweet treat making

plant-based kitchen tips, secrets and laughter galore
DAY TWO: Sunday, April 21st
mastering tasty spring rolls that work every time

art of superfood chocolate making – with love

superfood smoothies, smoothie bowls and chia puddings

delicious homemade plant-based milk made easy

how to create healthy foods when you are short of time

everything you need to know about plant-based pantry staples

plant-based kitchen tips, secrets and laughter galore
Please note: Activities may be subject to slight change depending on what is available locally.
Colourful and nutritious lunches, salads, dips and spreads
A fundamental part of conscious kitchen cuisine, we'll make a myriad of different and exciting high-vibe salads, dressings and dips to inspire your daily food at home. Jam packed full of health-affirming goodness, salads and dips we'll be buzzing with wonderful energy all day long.
Raw & Superfood Sweet Treat Secrets
Using nuts, seeds and superfoods along with dried and fresh fruits, we'll uncover the magical alchemy of raw food sweet treat making. The only question is… can you handle this much delectable deliciousness?
Delightfully healthy chocolate made with love
The art of making healthy chocolate with love is an especially fun activity. Create your own unique chocolate bars to nibble throughout the day.
Homemade spring rolls making
Always a favourite session on workshops. We'll learn my special, fail-proof techniques for making the best ever spring rolls for lunch, every time.

Superfood smoothies & chia puddings
We'll look at the health benefits of making superfood smoothies and chia puddings. I'll share my top tips so that you can create delicious, easy smoothies and breakfast puddings all year long.
Sauerkraut made simple
Simple, easy and a world apart from the stuff you buy in the shops. We will learn about the wonderful health benefits of sauerkraut, fermentation and we'll each create our own to take home.
Super healthy foods when you are short of time
We will pay special attention to learning the art of creating food when you don't have much time. We'll explore time-saving techniques and methods to ensure that you can enjoy healthy, conscious cuisine at home on a daily basis, no matter how much time you have to spare.
Beautiful location
This will be held at a really magical location on Vancouver Island, hosted by my dear friends Jan & Geoff. The space we will be working in is divine, nurturing and sacred (with amazing natural views). Beautiful thanks to my friends for welcoming us here…
Booking a place or expressing interest…

Places are limited.

If you are interested, have more questions please do message me right away (please also give me a contact phone number, just in case my reply goes into your spam folder). Just go to the contact page via the menu bar above. I am happy to answer any questions that you have. I will normally reply within 24 hours, so if you don't hear from me, please do check to see if the email has gone into your spam folder (Hotmail and Gmail seem to do this a lot these days). You can also message me via the Facebook page.

Jan (Vancouver Island) is taking the bookings…

Please email her here: anamcara@telus.net

Or call or message Jan here:
landline – 250-391-5160
cell – 250-857-1806 (for messaging)

Accommodation: This is a non-residential workshop so please ask Jan if you need advice on local B&B accommodation (or camping/RV options on site if needed). She's happy to help.

Price structure:

* Whole weekend Price: $245 CAD (including all activities, lunch, nibbles, sweet treats to take home and print-outs)
* One day only Price: $130 for one day

Location: Vancouver Island, Canada (address on booking)

Dates & Timings:

Saturday April 20th & 21st 10am – 4pm approximately (each day)