The humble chickpea (also called garbanzo bean) is an excellent addition to any healthy diet. Chickpeas are a staple ingredient for hummus and falafels. They also work a treat in curries, veggie burgers, and high-protein salads. These nuggets of deliciousness have a slightly nutty flavour and soft yet firm texture that most people find pleasing. In this article, we are going to look at how to cook dried chickpeas from scratch.
Bulk making chickpeas is super cost-effective
Bulk-making chickpeas is hugely efficient and cost-effective compared to using them from cans. Chickpeas often feature in the cuisine that I make for large groups on retreats. I often find myself cooking up an enormous pan of them, using them over a few days in recipes such as falafels, hummus, salads, and curries. Meanwhile at home, in order to be frugal and efficient, I'll make up a huge pan of chickpeas to use in recipes for family and friends. At home however I can't use them fast enough, so I freeze them in batches.
Chickpeas will double in size and weight after soaking and cooking
Chickpeas will more than double in size when cooked from dry. If I use 1kg (about 2lbs) of dried chickpeas, I'll usually end up with 2.4kg (5+ lbs) when they are cooked! Not bad eh?
Tips on how to cook dried chickpeas
It's super easy to do, although you will need to plan ahead. The easiest method is to soak them overnight and then cook them the next morning. You don't need to tend them much, so most of the time is waiting whilst you can get on with something else. There are a few important things you need to take into consideration…
Get a pan that is big enough – your chickpeas will more than double in size.
You need at least 3 times as much water for soaking.
Plan ahead and soak them the night before.
It will take somewhere between 90 minutes and 2 hours to fully cook them.
You'll generate a huge amount of these little nutty beauties. See the full step-by-step guide below on how to cook them.
What is that white stuff when cooking chickpeas?
That white stuff is called aquafaba or scum (lovely I know!). It is harmless and people even use it for recipes. It forms during the cooking process and can sometimes get a bit unwieldy. I am in the 'take it off camp' and tend to scrape it off with a large spoon and then discard it.
You can either get rid of it or leave it on there.
How to freeze chickpeas that you have cooked
Chickpeas will only keep for a few days in the fridge once cooked. This means that you are running against the clock to use them. The ideal solution is to freeze these little protein-packed gems.
My method is to weigh them into the size portions that I know I will use and freeze them in small containers. You can also use freezer bags for freezing if you prefer.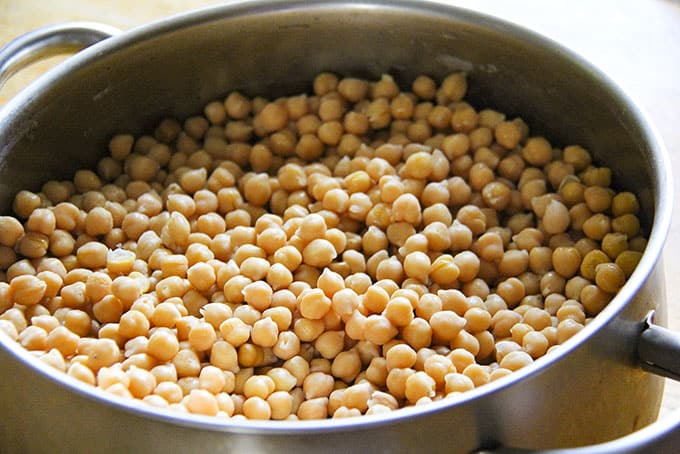 How to Cook Dried Chickpeas From Scratch
Cooking chickpeas from dry is very easy to do. You need a little bit of time, but most of that is for the soaking and cooking, which happens with hardly any effort.
Instructions
Soak chickpeas overnight, or for at least 8 hours in water. You will need about 3 times as much water as chickpeas. They will more than double in size.
When ready strain the chickpeas, put them back in the pan, and then cover with fresh water. The water line should be at least several cm (a couple of inches) above the chickpeas. This allows for further swelling and water evaporation during cooking.
Cook the chickpeas for at least 90 minutes, possibly for 2 hours. They are ready when you can easily squash them between two fingers.
During the cooking process, you can remove the white foamy stuff by scraping it off with a large spoon.
When cooked, strain with a large colander and rinse with clean water.
Allow your chickpeas to cool.
Use the chickpeas immediately or put them into the fridge or freezer for later use. They will keep in the fridge for a few days or the freezer for a few months.
To freeze your chickpeas it is helpful to weigh them into the portion sizes that you will require later. Place them into containers or freezer bags.
My favourite things to make with chickpeas…
Beetroot Falafels – a tried and tested favourite…
Smoked Paprika Hummus – my most popular dip on retreats…
15-minute Chickpea Curry – deliciousness…
Chickpea Burgers that everyone loves…
How to cook dried chickpeas – pin for later…