Check out my other healthy drinks here: Healthy Drinks
In a culture that tends to bombard us with pollution, free-radicals, electro-smog and a myriad of vibrational lowering stress, I love to know that every morsel of what I eat is supporting my health and helping keep my vibration high. I love starting off the first meal of the day with a fresh juice or smoothie, loaded with nutritious gems.  Below, I'm sharing a recipe for my malty-maca, mango and coconut smoothie that delivers a plethora of amino acids, minerals, vitamins and anti-oxidant properties.
So what is maca? Maca is an incredible plant, growing at extremely high altitudes (7000ft and above) in the Peruvian Mountains. It's very hardy, surviving in a place where little or no other foods grow (which already tells me that it has some very noteworthy properties to offer). It has adaptogenic properties, which means that it helps you cope in stressful situations – physically, mentally and energetically. It's well known for supporting and regulating the endocrine system in both men and women. The endocrine system is responsible for healthy functioning of hormones (which are essential for regulation of energy levels, digestion, brain function, the nervous system, fertility and wellness in general). Women have noticed that it helps to balance hormones reducing menopausal and pre-menstrual symptoms, whilst men have observed that it helps support fertility and sexual functions. It's an all round gift.
So here's how I make my 'Malty-Maca, Mango & Coconut Smoothie'…

Malty-Maca, Mango & Coconut Smoothie
A super healthy smoothie blending mango with maca. Dairy free with plant based milk and coconut.
Ingredients
1/2 large mango
1 ripe banana
150ml plant based milk
1 tablespoon maca powder
1 heaped tablespoon dessicated coconut
1 tablespoon coconut cream
Instructions
Peel fruit and blend all ingredients together. I like to use a hand (immersion) blender to save on washing up. Use whatever you have available. You don't need a particularly strong blender for this tropical medley.
Save a few sprinkles of dessicated coconut to garnish the top and serve for breakfast.
Check out my other healthy drinks here:
Healthy Drinks
Where to get your Maca Root Powder from?
Check out my article All About Maca for lots of useful info about this incredible food.
Your health is important, so be sure to buy
Certified organic
GMO free
Peruvian Maca
It might be tempting to cut corners and go for inferior products for convenience, but it's not worth it. Maca not particularly cheap to buy, however, you would probably only use between a teaspoon and tablespoon every day. Therefore a 500g (1lb) packet could last you up to three months. A small price to pay for such healthful properties.
I only recommend products that I have used, tried and tested myself. The following two companies both have excellent ethical standards and I've been in touch with them personally. Here are my suggestions…
North America
My favourite company in the USA is The Maca Team. They only trade with Peruvian farmers whilst ensuring that they serve you with organic Maca that supports your health in the most beneficial of ways. I've used their products when I've been to the USA and Canada and I am very impressed with the results. The Maca Team products are very fairly priced compared to other companies and the quality is fantastic!
Check it out here:
Premium Organic Maca – Fair Trade – GMO Free – Great Prices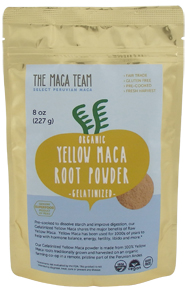 UK and Europe
My favourite company in the UK is Sevenhills Wholefoods. They sell the maca that I use the vast majority of the time. Sevenhills are very much in contact with their farmers, and are proud of the direct-supply line they have established, with ethics, fairtrade, organic and sustainability as priorities. Whilst it isn't cheap, considering the quality of their product, their price is very good value.
Check it out here:
Sevenhills Wholefoods Organic Gelatinised Maca Powder 500g